Infineon, ARM® Cortex™-M4 32-bit, XMC4500 Enterprise Kit
| | |
| --- | --- |
| | Infineon, ARM® Cortex™-M4 32-bit, XMC4500 Enterprise Kit |
XMC4500 Enterprise Kit
You will get 1 Enterprise kit, boxed.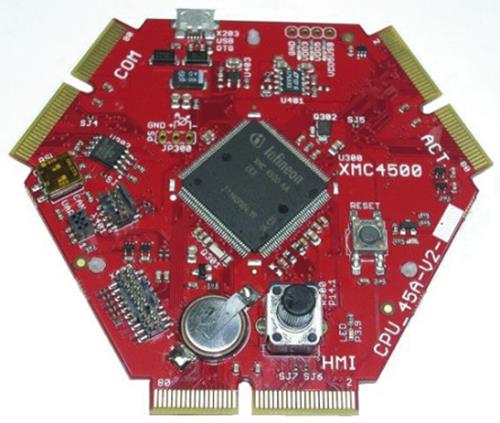 XMC4500 Enterprise Kit
MCU Derivate: XMC4500-F144K1024
MCU Package: LQFP144
CPU Clock: 120MHz
On-Chip Memory: 1024kByteFlash, 160kByte SRAM

Interfaces:
- USB Connector (Micro-AB USB)
- Cortex Debug+ETM Connector (20-pin)
- Cortex Debug Connector (10-pin)
- DriveMonitor2 Connector (10-pin + 6-pin)
- HMI Satellite Connector (80-pin edge card)
- COM Satellite Connector (80-pin edge card)
- ACT Satellite Connector (80-pin edge card)
- Power Scale Connector (for power measurement)

Components:
- Infineon's Linear 3.3V Power Regulator IFX1763
- Serial Flash Memory, 32MBit, single/double/quad SPI
- LED for general purpose use (connected to P3.9)
- Potentiometer for ADC (connected to P14.1)
- 12MHz crystal and 32.768kHz crystal
- Reset button
- 2-pin DIP switch (Hardware boot mode selection)
- LED indicating active PORST (Reset) signal
- 3 LEDs indication power (3.3 Volt, 5 Volt, 5 Volt USB)


Supplied with
CPU Board XMC4500 General Purpose (CPU_45A-V2)
J-Link Lite CortexM Debugger
Pin Extension Board (UNI_EXT01-V2)
USB cable
Getting Started Flyer
For a Specification PDF Please CLICK HERE

Thank you for looking, if you have any questions please ask or ring 01623 720730.
Please see our other items for a wide range of Electronic components.